Keep away the winter chill by cozying up to a comforting bowl of Ham and Sweet Potato Soup!  This easy and delicious, paleo friendly recipe, is packed with healthy vegetables and is a great use of leftover ham.
Hello! It's been a while, I know! I haven't forgotten about you, I've just had a crazy few months, but I'm baaaack! What's kept me so busy? Well, first of all, I redesigned my website with The Dynamik Website Builder and some fancy schmancy css, html, and java script. Isn't it spiffy?
Since more than half of you are visiting me on smart phones, I wanted A Whole New Twist to be more mobile-friendly. Now that I've made my home more comfortable, I hope you'll visit more and stay longer!
I've also been really busy with some graphic design projects. I'm addicted to the Adobe cloud, seriously, I need to stop.... Most recently, I designed this playbill cover for my son's high school musical. What do you think?
While I've been busy sitting my sedentary ass in front of a computer and snacking on crap that I had no business eating, my muffin top has been inching over the top of my pants. As a good friend said when she saw me reaching for my fourth Pepperidge Farms cookie, "Man, when you fall off the paleo wagon it's a looooooong drop!" Sigh....
So now I'm back on the wagon, and I plan to post recipes more regularly. Let's start with this amazing Ham and Sweet Potato Soup!
This is one of those recipes where I really didn't feel like cooking the meal I had planned, and I was too lazy to go to the grocery store, so I scrounged through my kitchen and threw a bunch of stuff into a pot, and voila, soup!
You may ask yourself, 'Who has leeks just sitting around in their kitchen?' Well... they were supposed to go into that recipe I didn't feel like making.  I'm so glad they landed in this soup instead because they made the dish.
My husband says that leeks look like something out of Star Wars. They are kind of funny looking, but they're also really yummy.
Just be sure to rinse them well because they tend to be sandy. After I trim off the white root, the green ends, and then chop them, I stir them around in a bowl full of water and let them sit for a while.
When I'm ready to use them, I fish the chopped leeks out, being careful to not disturb the sand that had dropped to the bottom of the bowl.
I used leftover ham that I had in my freezer.
In the past, I would have made ham and bean soup, but I avoid beans these days. In addition to the whole "musical fruit" thing, they really don't agree with me, and they are certainly not part of any ancestral diet. It turns out, that I like Ham and Sweet Potato Soup even better!
I have made this recipe twice, the first time I used sweet Hannah sweet potatoes, which have white flesh.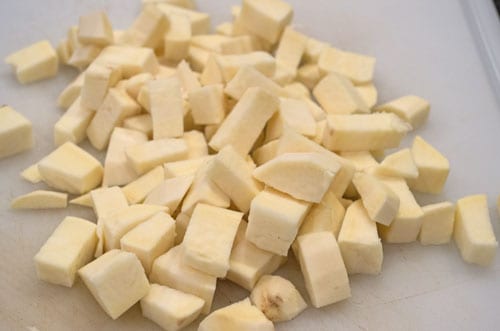 My kids went on and on about how delicious this soup was, and that there was something different about it. The second time I used sweet potatoes with orange flesh and the kids were like, "This soup is kind of weird Mom...." It tasted exactly the same, but if you have kids who eat with their eyes (like mine do), you might want to go for a white sweet potato.
This soup freezes beautifully, so it is a wonderful make-ahead meal!
Enjoy!
Ham and Sweet Potato Soup
Servings:
10
cups of soup
4

cups

chopped cooked ham

trimmed of excess fat

2

& 1/2 cups chopped celery

2

cups

chopped carrots

about 5 carrots

4

cups

leeks chopped

about 2 leeks

2

cloves

garlic minced

8

cups

of low sodium chicken stock

two 32 oz boxes

2

cups

water

1

tsp

dried thyme

2

dried bay leaves

1

tsp

ground black pepper

2

cups

peeled and diced potato

about 1 medium sweet potato

chopped fresh flat-leaf parsley for garnish
In a large pot over medium heat, saute the ham until it begins to brown and release some fat and moisture into the pan, about three minutes.

Add the carrots and celery and saute until they begin to soften, about four minutes.

Add the leeks and saute until they begin to soften, about two minutes.

Add the garlic and saute until fragrant, about one minute.

Add the chicken stock, water, thyme, bay leaves, and ground black pepper. Stir, raise heat to high and boil.

Lower heat and simmer mixture, uncovered for 50 minutes.

Add sweet potatoes, raise heat and bring to a boil. Lower heat to simmer and cook until sweet potatoes can be pierced easily with a fork 15-20 minutes.

Garnish with chopped parsley and serve!