This old-fashioned, Gluten Free Skillet Cornbread has delicious crispy edges. It contains, rice flour and cheese; and reminds me of my Southern Granny's recipe.
I don't eat a lot of grains, but I still eat cornbread sometimes. Cornbread was a staple growing up in North Carolina, I love it, and I won't live without it. As a compromise, I started making homemade gluten free cornbread instead of the stuff out of the box.  After much trial and error, I finally came up with a recipe that I like.
Traditional Southern cornbread does not contain wheat flour, and has little or no sugar. It is dense and crumbly. My Granny's cornbread had wheat flour and sugar, and while it was not the light, cake-like cornbread of the North, it didn't fall apart as you ate it either. I made up for the missing glue (gluten) in this recipe, with the starch from the rice flour as well as the protein from the eggs, milk and cheese. I really like "Kerry Gold Dubliner Cheese" in this recipe, but you could use grass-fed, pasture-raised cheddar cheese instead.
Instead of a gluten free flour blend, I used white rice flour. While white rice is very starchy and high on the glycemic index, it is easy to digest and is low in gut damaging phytates and lectins, unlike brown rice and the various bean flours found in most gluten free flour blends.
Bobs Red Mill has lots of great organic, not GMO flour choices.  I use them all the time.  And I guess they must like this recipe, because they tweeted it, yay!
RT @AWholeNewTwist: Gluten Free Skillet Cornbread with rice flour. http://t.co/bTUypnkNiJ … @BobsRedMill

— Bob's Red Mill (@BobsRedMill) April 1, 2015
I also settled on finely ground cornmeal instead of medium or coarse grinds.  I really didn't like the texture of the medium and coarse cornmeal, and more importantly, they were hard on my tummy.  I actually had to go online to find organic non-GMO cornmeal that was finely ground. There so much emphasis on eating high fiber grains, but I have been learning how the insoluble fiber in grains is not actually good for you. If you're interested, here is a great post from Lauren Geersten: http://empoweredsustenance.com/are-you-fiber-obsessed/
Here is a shot of the batter in the preheated cast iron skillet, notice the edges are already starting to sizzle. This is what makes that distinctive cornbread "crust". My kids fight over the crust pieces.
I was fortunate enough to inherit a perfectly seasoned cast iron skillet from my husband's grand parents. We use it often and continue to care for it as Nonny and Pops did. Keep an eye out at antique shops or second hand stores for old seasoned cast iron pans, they are usually better quality than the new pans, and they are already seasoned!
This cornbread is great alone, or served along side soups and stews. Try it with my Paleo Chili with Butternut Squash: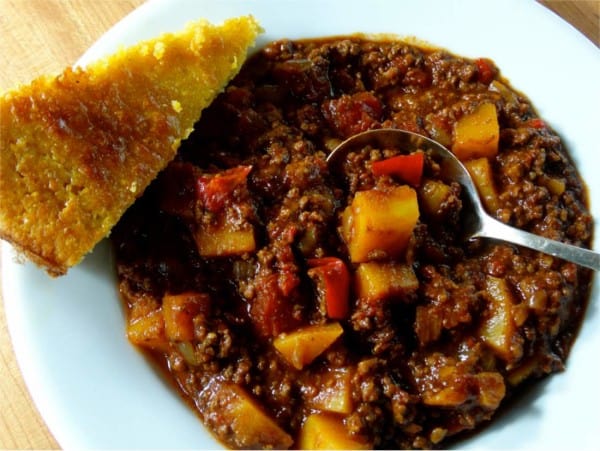 or my Paleo Beef Stew:
Gluten Free Skillet Cornbread
Ingredients
1&1/4 cup finely ground cornmeal
¾ cup white rice flour
1 Tbs baking powder
½ tsp baking soda
1 & ½ tsp finely ground sea salt
1 & ½ cups milk (I used 2%)
¼ cup melted grass-fed, pasture-raised butter, plus enough to grease your skillet
¼ cup plus 1 Tbs raw honey (melt if it is in a solid state)
2 large eggs plus 1 large egg white, (lightly beaten together)
¾ cup grated Kerry Gold Dubliner Cheese, (or grass-fed, pasture-raised cheddar cheese)
I recommend using organic ingredients when possible.
Instructions
Butter a cast iron skillet. Place buttered skillet in the oven and preheat to 350 degrees.
In a large mixing bowl, whisk together the cornmeal, rice flour, baking powder, baking soda, and salt.
In a separate smaller bowl, whisk together: the milk, the lightly beaten eggs, ¼ cup melted raw honey, and the melted butter, (make sure honey and butter are not too hot or they will cook the eggs.)
With a whisk, combine the wet eggs mixture to the dry ingredients, and stir.
With a wooden spoon, stir in the grated cheddar cheese.
Remove hot cast iron skillet from the oven and pour the cornbread batter into it. Use a spatula to scrape down the sides of your bowl.
The batter will sizzle along the edges of the skillet.
Spread out batter to an even layer, and bake at 350 for 30-35 minutes, or until a knife inserted into the center comes out clean and the top is golden brown.
Drizzle 1 Tbs raw honey over the top of the warm cornbread, and spread with a spatula for an even coating.
Let cool before cutting.
This recipe is featured on: