This Homemade Paleo Worcestershire Sauce is so easy to make and it keeps well in the refrigerator. Includes D.I.Y. instructions on how to make your own bottle!
I love adding Worcestershire Sauce to beef dishes, especially saucy ones. Unfortunately, most store-bought brands are full of "not so healthy" ingredients, and I have not found ANY that don't contain soy; so I decided to make my own.
This recipe will last a long time in the refrigerator. In fact, you can just check the dates on your coconut aminos, fish sauce, and sriracha sauce. Whichever one expires the soonest, will set the expiration date for this Worcestershire Sauce. I like to use these Paleo-friendly brands: Coconut Secret Coconut Aminos, Red Boat Fish Sauce, and Organic Ville Sriracha.  It looks like Red Boat Fish Sauce approves of this recipe, because this was their comment on Twitter:
@AWholeNewTwist Great idea!

— Red Boat Fish Sauce (@Red_Boat) March 19, 2015
My Homemade Paleo Worcestershire Sauce is not quite as sour as store bought brands, which usually contain tamarind. I wasn't up for the hike to my local Asian market to track any down, so I didn't include tamarind in my recipe. If this is not tangy enough for you, you can just add a bit of lemon juice to whatever recipe includes your Worcestershire sauce.   Don't add lemon juice directly to your container though, because it does not last long in the fridge.
You can use this sauce in lots of recipes, like my Paleo Beef Stroganoff: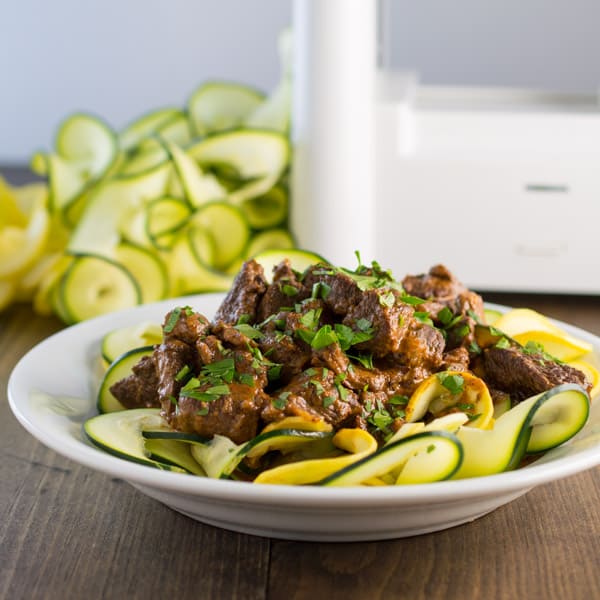 or my Paleo Beef Stew:
Do you have trouble pronouncing Worcestershire?  Well you are not alone, and neither am I!  Here is a youtube video of a little old Italian man trying to say Worcestershire Sauce. It cracked me up, so I thought I would share.
I didn't include any cooking process photos because, I trust you know how to measure and whisk.  I do however, have instructions for how I made my Worcestershire Sauce bottle. I'm a dork, I know…
For photos and instructions on how to make your own Worcestershire Sauce bottle, scroll down past the recipe.

Homemade Paleo Worcestershire Sauce
Ingredients
½ cup coconut aminos
1 Tbs plus 1 tsp fish sauce
2 tsp molasses
1 tsp sriracha sauce
3 Tbs apple cider vinegar
½ tsp garlic powder
1 tsp onion powder
½ tsp ground cloves
½ tsp mustard powder
Instructions
Whisk all ingredients together and store in an air tight container in the refrigerator.
Photos and instructions on how to make your own Worcestershire Sauce bottle.
Gather your supplies: a brown paper lunch bag, kitchen twine or other string, scotch tape, glue stick, print out of your label, and scissors. You will also need a clean/dry glass bottle with a tight fitting lid. I got this one at Michael's Craft Store, but you could definitely recycle something for this.
Cut the bottom off of your bag, and cut down one end vertically. Lay the bag flat, and cut it down the middle, you will only need half.
Fit your bottle to the bag, leaving some paper hanging past the bottom.
Apply glue stick to the edge of the bag closest to you.
Carefully roll the bag around the bottle, beginning with the unglued edge, farthest from you. Roll the bottle towards you and secure the paper with the glued edge.
Fold the overhanging paper in several places on the bottom of the bottle, working in a circle. Secure with scotch tape.
Tie twine around the neck of the bottle and snip ends off. You can also twist the paper at the top of the bottle so that it sits flush against the bottle.
Design your own label on the computer, I used Inkscape to design my label which was 3.60" x 2.75" or 324.0 x 247.5 pixels. You could use Photoshop, Illustrator, or even Microsoft Word. Print onto printer paper, and cut out.
Apply glue stick to the back of the label and attach it to your bottle.
Whisk together your Worcestershire Sauce ingredients, and use a funnel to add the sauce to your to the bottle.  I added a double batch of sauce for my bottle.