This Paleo Beef Stroganoff is served over wide zoodles, (zucchini noodles).  It is another delicious, paleo comfort food!
Beef stroganoff is a hearty, stick-to-your-ribs meal that feeds a crowd on a budget, which makes it favorite at our ski house!  With the exception of the zoodles, you could make this entire meal in advance, and even freeze it for a future meal.
I usually serve my Paleo Beef Stroganoff  over cauliflower-mashed potatoes, but I was recently inspired by Sonia at The Healthy Foodie to try it served over wide zucchini noodles, and I was delighted with the results!
For this recipe, I used the razor attachment on my spiral vegetable slicer.
You could also use a mandolin to make thin slices, but the "noodles" wont have the curl like these do.
Have you ever been served grey Beef Stroganoff? Not very appetizing, is it? Usually that's a symptom of too much sour cream, and beef that didn't get browned properly. The trick to getting good color on your meat is a hot pan, dry meat, and not over crowding. Cook the meat in batches to give the pieces a little elbow room!
I made this recipe in a Dutch oven, which I transferred to the oven to braise for an hour and a half.   After the stroganoff comes out of the oven, reduce it on the stovetop for 20 minutes.
Add the cream during the last 15 minutes of cooking. I like cream in my stroganoff instead of sour cream, it's good, try it!
If you are dairy-free, you can skip the cream and serve the reduced stroganoff over the zoodles, or cauliflower mash.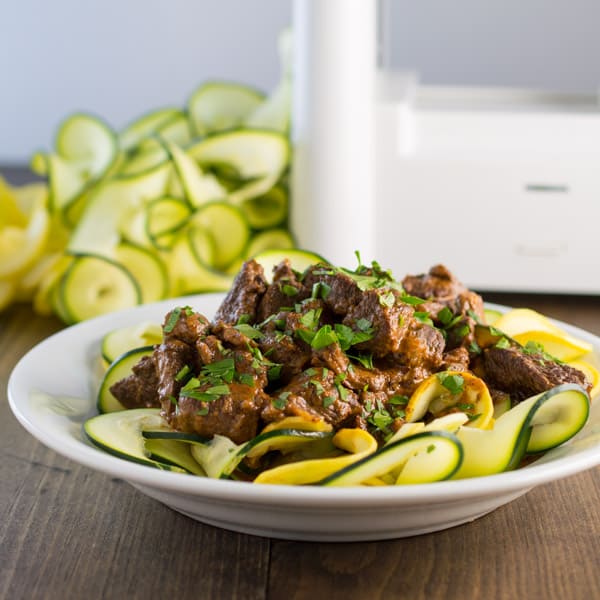 To see more recipes, CLICK HERE.

Paleo Beef Stroganoff
Ingredients
2 Tbs organic butter from pasture-raised, grass-fed cows (or ghee)
2 lbs stew beef cut into bite-size pieces (chuck works well)
1 large onion chopped
1 8 oz package sliced button mushrooms (or your favorite mushrooms)
2 garlic cloves minced
2 cups low sodium organic beef broth
½ cup red wine
1 Tbs worcestershire sauce (try my Homemade Paleo Worcestershire Sauce)
1 Tbs tomato paste
1 Tbs dijon mustard
½ tsp kosher salt
½ tsp ground black pepper
1 Tbs paprika
¼ tsp dried dill
½ cup organic heavy whipping cream (optional)
¼ cup fresh chives chopped
¼ cup flat leaf parsley chopped
For the wide zoodles:
Use one large zucchini/yellow squash (or two small), per person.
I recommend using organic ingredients, when possible.
Instructions
Preheat oven to 350
Wash and pat dry the stew beef, cut into bite-size pieces, and salt and pepper to taste.
Heat a dutch oven, or a large ovenproof pot with a lid. Add ½ Tbs butter to the hot pot, as soon as it melts, brown half of the beef. Be careful to not crowd the beef or it will not get that nice color. Remove browned beef to a separate plate, add ½ Tbs butter to the pot and brown remaining beef and then remove to the plate. Note: if your pot is smaller, you may need to brown in three batches.
Add ½ Tbs butter to pot along with onions and mushrooms. Sauté mushrooms until they start to lose most of their liquid, (about 5 minutes). Add minced garlic to the pot, sauté until it becomes fragrant, be careful not to burn it.
Add beef broth, red wine, worcestershire , tomato paste, mustard, salt, pepper, paprika, and dill to the pot, and stir to incorporate. Return the browned beef to the pot and stir. Turn heat to high, and bring mixture to a boil.
Once mixture boils, turn off the burner, cover pot, and transfer to the oven. Cook in the oven for 1 and ½ hours.
Remove pot to the stovetop, simmer uncovered for 20 minutes, to reduce liquid. Add heavy cream and chives, and simmer for another 15 minutes, stirring frequently. Serve over wide zoodles, (zucchini noodles) or cauliflower-mashed potatoes, garnish with parsley.
For the wide zoodles:
Place spiral sliced zucchini and or yellow summer squash in a microwavable bowl, salt and pepper to taste, cover the bowl with a plate and microwave on high for 3 minutes. Strain in a colander, and serve topped with the stroganoff. The heat of the stroganoff, will do the rest of the cooking for you.